This program is intended to financially assist individuals with getting their dog or cat spayed or neutered, while encouraging them to establish a relationship with a local veterinary clinic. 
How this program works….
One of the most significant ways we can help decrease the number of homeless pets entering our shelter is through our spay & neuter program.
When you come to our event and purchase a voucher for $20, that is not actually what the veterinarians are charging for their services. The Friends of the JCAS do receive a bill for your spay/neuter, and we do pay the vet clinics their standard rate (not to exceed our agreed upon maximum compensation limits).

For 2018 we sold 260 vouchers at $20 each. This brought in $5,200.00 income. However, we paid our participating veterinarians $37,417.90 for the surgeries incurred from those vouchers. That means we spent $32,217.90 of donated funds to sustain this program.
This is why we continue to hold fundraisers, why we limit the number of vouchers we can sell, and why we hope that if you truly can afford to pay for a spay/neuter that you do, and leave the limited number of vouchers for those who truly need them.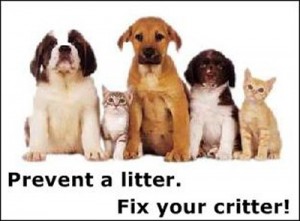 Some things you need to know if you want to apply…
The voucher distribution events are held at 8:00 a.m.; in the conference room of the Jefferson City Animal Shelter, 2308 Hyde Park Rd. You may wish to arrive early to get in line, as they are sold on a first-come first-serve basis.


The dates for this year are:
1st  Quarter, 2021 – February 13
2nd Quarter, 2021 – April 24
3rd Quarter, 2021 – July 10
4th Quarter, 2021 – October 09
Applications will be handed out, completed and reviewed on site.
One application per person, one pet per application. The only way to receive more than one voucher is to bring another person with you to apply for one. (Must be 16+)
The vouchers are sold on a first-come first-serve basis, pending application approval. We issue 60 vouchers per quarter.
A voucher costs $20.00, Cash Only, due at time of issue.
The voucher will expire 30 days from the date it is issued.
Your pet needs to be at least 5 months old, and cannot currently be pregnant or nursing, unless you have spoken to a participating veterinarian and they have agreed to operate under these circumstances.
With the voucher you will receive a list of participating veterinarians. You will be responsible for making an appointment with the vet clinic of your choice. 
Do Not bring your pet to the voucher distribution event.
Participating Veterinarians
All Paws Medical and Behavioral Center
Animal Medical Center of Jefferson City  
Countryside Veterinary Clinic
Quail Valley Veterinary Clinic  
Steck, Greg DVM
Weathered Rock Veterinary Clinic